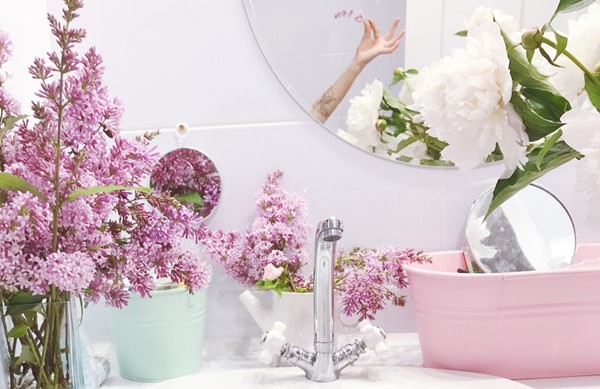 Not many people would readily consider the bathroom as the prime spot for flower decoration but propping a small vase of flowers on your vanity is a natural yet high-impact way to add a layer of color and a touch of luxury to your bathroom.
A small vase of colorful can also bring freshness to the most unremarkable, mundane moments. Times like when you're getting ready for the long day ahead. Or if you're having guests over soon, featuring floral arrangements in your bath is a lovely way to surprise them as well: It shows your attention to detail and will make them feel extra welcome. Here's a guide to perfecting your bathroom florals.
Bathrooms can be tiny compared to other rooms in your house, but having less open area to place substantial vases. You'll need to become selective with how you display your colorful blooms. If you're short on counter space, you can opt for tiny bud vases. Or, use single blossoms or sprigs of greenery. You can put one of these just beside the hand basin or line a few up on the windowsill to make a feature.
If you have extra room, try putting a larger vase onto a chic stool in a dark corner of the bathroom and make a floral statement.
Once you're determined to add blooms to your bathroom, you need to be mindful of which flowers you choose. Not every blossom handles the humidity that comes with this space well.
Here are some ideas to try: Flowers like orchids work well. Or consider Australian natives such as eucalyptus and banksias that are bathroom-happy botanicals with long shelf-life.
Need some quick tips on getting your bathroom bloom arrangement to be just perfect?
Make sure your arrangements are compact, so there's less chance of the flowers getting knocked over.
Make sure to keep your blossoms away from direct sunlight or places that will radiate heat, such as the bath – particularly if you're using delicate flowers.
Make sure you use heated light at a minimum for longer-lasting flowers.
Change the water regularly.Ready to take your botanical bathroom experience to the next level?
Get some eucalyptus from the shops – or your backyard if you can.
Run some string or twine around a few stems.
Fix it up in a bunch in the shower.
Grind the leaves a little so while you shower a steamy eucalyptus experience greets you every day.
When prepping your home for viewing, little touches such as a fresh sprig of blooms in your bathroom leave a favorable impression with potential homebuyers.